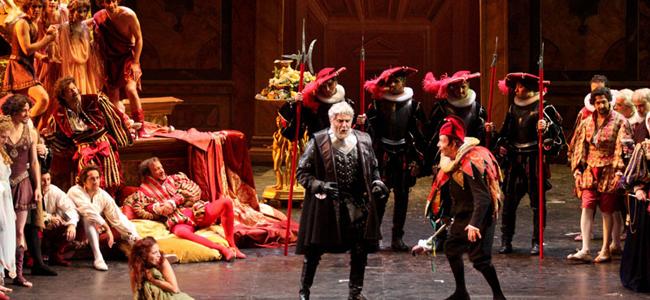 Verdi - Rigoletto
Immorality, kidnapping, seduction, passion, and murder are but a few words that summarize the plot of "Rigoletto." It is Verdi's first work (after 16 others) to attain a permanent place in the popular repertory. "Rigoletto" has some of Verdi's best-known music, especially one tenor aria that has been used to sell tomato paste and Doritos on television.
Jeffrey Engel will detail the background of "Rigoletto" and play recordings of musical highlights. 
---
Current Events:
---
---
Franz Schubert's Last Year
A Cornucopia of Musical Masterpieces
The last year of Franz Schubert's life was marked by professional disappointment and very poor health. Despite these handicaps, he wrote music seamlessly and at an incredible clip, producing one masterpiece after another until just weeks before his early death.
Jeffrey Engel will relate in detail the tragic life of Schubert and showcase some of the extraordinary music he created in 1828.
---
More of the latest news from Jeffrey Engel below ↓↓↓
---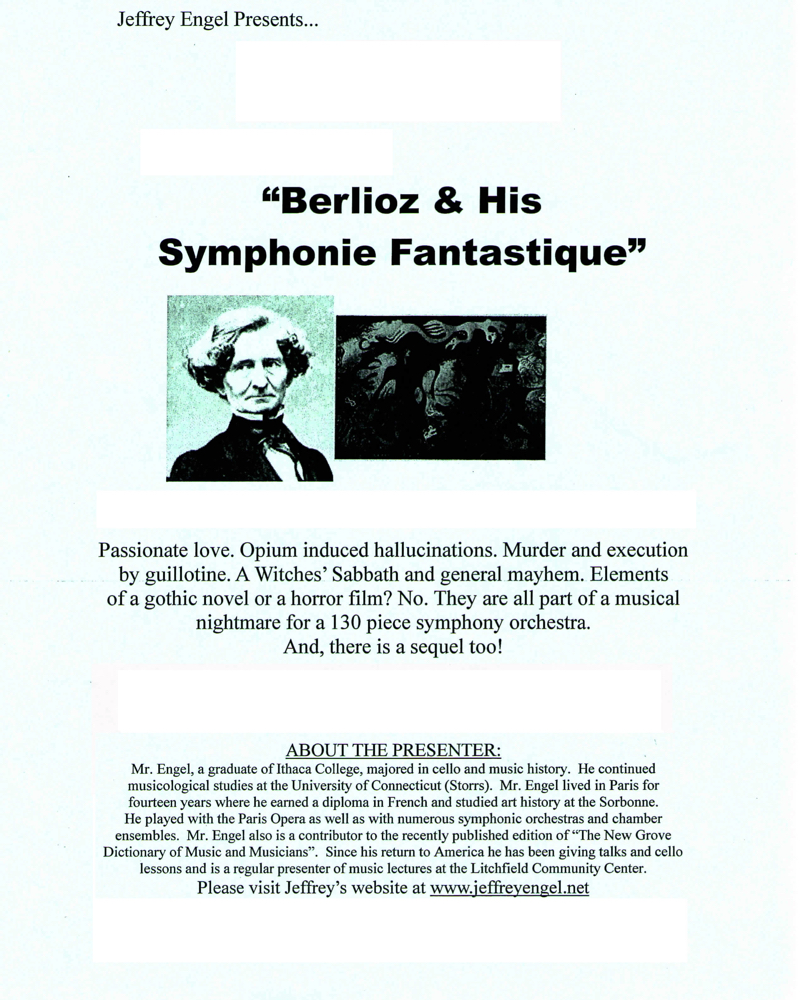 ---
---
---
Jeffrey Engel
Recently, Jeffrey Engel was selected by Litchfield Magazine as one of the fifty most influential people in Litchfield County. For fifteen years he has been giving lectures devoted to music history in libraries, colleges and retirement communities throughout Connecticut. His preference is for 19th and 20th century music ranging from the wonderful to the wacky in operatic, symphonic and chamber works. Subjects are always placed in a historical context in order to show how non-musical developments impacted the lives and creativity of composers.
Mr. Engel believes that music lectures should be entertaining as well as informative. To that end, his explanations are never too technical and he infuses his material with amusing anecdotes and musical illustrations.
Mr. Engel has had an unusual background. After graduating college with a Bachelor of Arts degree (major in music), he settled in Paris where he resided for fourteen years. There he studied cello, art history (at the Sorbonne) and earned diplomas in the French language. As a cellist, he taught in municipal conservatories, played all over France with operatic, symphonic and ballet orchestras, as well as with chamber music ensembles.
Since 2004, Mr. has taught classes and given lectures at Northwestern Connecticut Community College in Winsted, CT. He was a contributer to the 2001 edition of The New Grove Dictionary of Music and Musicians.
Comments by those who have experienced an Engel lecture -
"He's a walking encyclopedia of music and musicians."
Lisa Hoffman, Waterbury Republican American, 2004
"His love and knowledge of music makes his lectures on the topic the harmony of northwest Connecticut."
Litchfield Magazine, July/August 2010
"Jeffrey never fails to amaze me with his breadth and depth of knowledge. His sense of humor and sheer joy of sharing his love of music is unusual and inspiring. He speaks from memory (no notes at all!), a feat that testifies to his enormous preparation."
Louise Van Alstyne, President of the Northwestern Community College Foundation
"Jeffrey's scholarly, entertaining lectures, combined with musical selections, make hearing about composers interesting for even the non-experts among us. His prodigious memory is incredible."
Suzi Smith, former Executive Director, the Alliance Francaise, Hartford